Pátio dos Artistas - Musical Theatre and Cinema School is a Performing Arts course in English for children aged 8+ and was founded by Margarida Alberty. This course offers classes in acting, dance, and music for stage and film.
From September 15th - December 1st we'll be starting a new course JUNIOR ACTORS. This course focuses on developing acting skills for stage and film. This includes improvisation, character building, stage presence, speech, working with props, line memorization, etc.
Pátio dos Artistas - Escola de Teatro Musical e Cinema é um curso de Artes Performativas em inglês para crianças com mais de 8 anos e foi fundado por Margarida Alberty. Este curso oferece aulas de representação, dança, e música para teatro e cinema.

De 15 de Setembro a 1 de Dezembro iremos iniciar um novo curso ACTORES JUNIORES. Este curso concentra-se no desenvolvimento de capacidades de representação para o palco e o cinema. Isto inclui improvisação, construção de personagens, presença de palco, discurso, trabalho com adereços, memorização de falas, etc.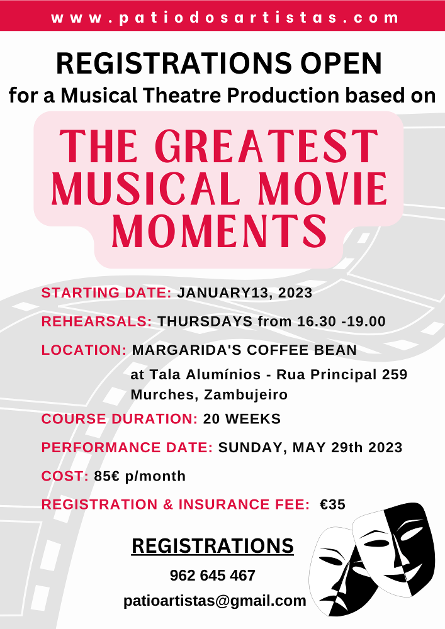 ALMA STUDIO'S GOT TALENT
JANUARY - MARCH 2022
CHRISTMAS PRODUCTION OCT - DECEMBER 2021